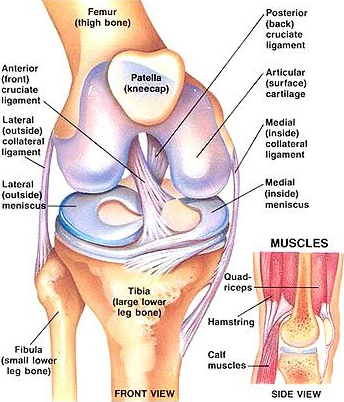 Basic anatomy of the knee joint
The knee is a complex joint with many integral components.
The femur or thigh bone, forms a joint with the larger bone of the shin, the tibia. Each bone has a layer of cartilage covering the end of it that forms the joint, this is called articular cartilage and helps the bones glide smoothly during movement of the knee. At the front of the knee is the knee cap or patella. The patella plays an important role when the knee is bent or straightened.
Between the tibia and femur bone are two crescent-shaped pads of cartilage that reduce friction and disperse the weight of the body across the joint. The lateral meniscus, situated at the outside of the knee and the medial meniscus, situated on the inside of the knee. These help to spread the weight of the body across the joint surface.
The bones are held firmly in place by the capsule,tendons and ligaments of the knee. On each side, medial and lateral, are the collateral ligaments. These stop the knee from wobbling from side to side. In the centre of the knee are 2 cruciate ligaments. These prevent the tibia from sliding backwards and forwards on the end of the femur.
Two groups of muscles help to support the knee. The Hamstrings at the back of the thigh run from the hip to just below the knee and work to bend the knee. The quadriceps, a group of four muscles, at the front of the thigh that straighten a bent knee.